Archive for September, 2012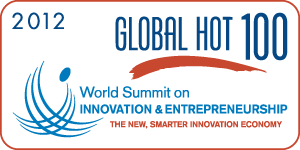 RME is excited to announce it has been recognized as a Global Hot 100 Company by the World Summit on Innovation and Entrepreneurship (THEWSIE) held in Boston this week and join the rank of honorees such as Stephen Hawking, Bill Gates and Archbishop Desmond Tutu.
"It is a huge honor and a very encouraging reward to have been selected from among 3,500 nominees as a company that is effecting change in business and society", said Olivier Ceberio, Chief Operating Officer, "the summit has been a fantastic showcase of the convergence of innovations across industries and cultures and we are very proud to be part of it.
The World Summit on Innovation & Entrepreneurship was launched in 2006 at the United Nations under the support of key multinationals. The Summit connects an elected group of the world's most innovative people to exchange inspiring stories and architect meaningful actions for economic and social innovation. Summit partners include Deloitte, Dassault Systemes, Khalifa Fund for Enterprise Development, MIT Enterprise Forum, and Akira Foundation.
Today, RME won the "Solution Inspiring Action" award at the second annual Savannah Ocean Exchange, a global event where the most innovative and effective solutions that positively impact the world's oceans are showcased. Sixteen solution-providers representing companies and collaborative teams from six countries were showcased at the event which took place September 19th – 21st at the Savannah International Trade & Convention Center in Savannah, GA. "Our hats are off to the wonderful people of Savannah who had the vision, creativity and energy to establish this annual event," said RME CEO Bill Staby. "I was impressed by the range of solutions presented and the event's emphasis on innovation and ocean stewardship."
Savannah Ocean Exchange event sponsors included aircraft manufacturer Gulfstream Corporation and global ocean transportation and logistics company Wallenius Wilhelmsen.